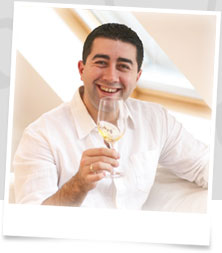 Know your wine-and find the best! Part 2
In the last issue, we looked at the different styles of white wines, and identified a few of the best and ones to look out for. We will now have a look at the reds.
 Lively and fruity red wines include some of the world's greatest and most expensive wines, especially those from Burgundy, made from the Pinot Noir grape. There are also some great Pinot Noir wines from the New World, especially from California and New Zealand. The wines of Beaujolais also come into this group, and there are some great Italian wines such as Valpolicella, Dolcetto, and Barbera.
These wines are really versatile, and go well with fish, white meat and poultry, red meat and cold meats. They are also not too heavy, so perfect for lunch.
The Best?  Burgundy reds from the Cotes de Nuits rank among the best and most expensive in the world, especially when they have been aged for 15 years or more. The great names like Gevrey-Chambertin, Romanée Conti and Morey-Saint-Denis are in this group. Some of the great Beaujolais wines like Fleurie and Julienas are excellent. Look out for Pinot Noir from Central Otago in New Zealand, or from Tasmania, and a stunning Californian Pinot Noir from Carneros, or even one from Oregon, will almost certainly be very good. If you like Italian wines, try to buy the Classico or Riserva, which refers to a better classification,rather than the ordinary brand.
Medium and smooth red wines are usually based on grape varieties like Merlot and Tempranillo (in Rioja wines), and also the blends which make up Chianti. These wines are neither too light nor too powerful, and are probably the group most drunk throughout the world. As well as Rioja and Chianti, they also include St Emilion and Pomerol from Bordeaux, most of the reds from Languedoc-Roussillon in the south-west of France, Brunello and Montepulciano from Italy, Carmenere from Chile, and lots of great New World Merlot wines from California, New Zealand and Australia. These wines are great with pasta, poultry, and grilled red meat or meaty fish.
The Best?  St Emilion Grand Cru wines are often great, and Pomerol includes Chateau Cheval Blanc-one of the most expensive wines in the world. Of the New World wines, Hawkes Bay Merlot from New Zealand is a star, and if you like Rioja, go for the Reserva or Gran Reserva. For Italian, look for Chianti Classico Riserva for the very best, or a "Super Tuscan" such as Tignanello.  For an unusual but great wine, go for the German Dornfelder-I love it!
Rich and Powerful reds include some of the world's great classics, for example the great wines of Bordeaux, Italy and Australia. Most of the best are made from Cabernet Sauvignon, Shiraz (also called Syrah) and Nebbiolo for the Italian wine. There are also some excellent Zinfandel wines, especially from Napa Valley in California, and Malbec from Cahors in France and Argentina. These are often full, powerful wines, ideal with game, casseroles and grilled red meat.
The Best? Some of the world's rarest, most delicate, world class wines are included in this group, especially the Bordeaux wines from the Medoc such as Chateau Latour or Chateau Margaux. The very best of these are classified as Premier Grand Cru Classe, such as Chateau Latour or Chateau Lafite-Rothschild, but there are many great wines classified as Grand Cru. Some of my favourites include Chateau Pessac-Leognan or Chateau Pape-Clement from Graves, Chateau Cos d'Estournel from St Estephe, and Chateau Brane-Cantenac from Margaux. The best Italian wines in this group are Barolo and Barbaresco, which is slightly lighter. Try Negro or Prunotto for great producers. The Spanish wine Vega Sicilia is very expensive, and a star wine made from a blend of grapes, as is the fantastic Chateauneuf du Pape from the Rhone Valley. Australia produces some great Shiraz wines, and you should look out for ones from the Hunter or Barossa Valleys. Glaetzer or O'Leary Walker make great Shiraz. Australian Cabernet Sauvignon is best from Coonawarra or Margaret River. If you like Californian, then look for wines from the Napa Valley or Sonoma for the best.
Among the Australians, Try Ridge Zinfandel or Frog's Leap Cabernet.
When you try some of the best, you will see what all the fuss is about-once you have tasted the greats, there is no going back!