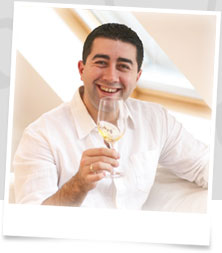 Some wines of Italy
Well, Spain did well this year-they won the football and they even won Wimbledon! There's only one way for us, though, to look forward to 2010 and the World Cup, and at least qualifying this time. Italy didn't do too well in the Euro Championship, but they are the reigning World Champions, and we have our new England manager-an Italian-so if we do well Italian wines might become very fashionable….
Italy is already famous for its architecture, art, opera, design and of course its great food. But what about wine? Italy is most famous in the UK for Pinot Grigio, the crisp, light funky wine to drink in pubs or bistros. However, like Fabio Capello, many Italian wines are very sophisticated and complex, and like France, Italy has many "niche" wines, wonderful, but not well known outside their particular region.
Italian wines can be very confusing and hard to understand. Often, they are based on local grape varieties such as Nebbiolo, Cortese, Nero d'Avila, Sangiovese, Arneis and so on. This is very different from what we are used to, the "big" varieties grown all over the world, such as Chardonnay, Sauvignon Blanc, Merlot, Shiraz and the others.
But, like everywhere, things are changing! New modern technologies have led to there being less rustic wines and better volume with quality. Italian wines have moved on from the Chanti in the straw-covered bottle! My tip is to stick to the classic names and producers, and remember that most Italian wines are best drunk when young. Often, the cheaper the wine, the younger and fresher it will be, bringing out its fruity character.
I always feel that Italian white wines are great fun. They are easy to drink and refreshing, especially with tapas, round the pool, or at a party. Pinot Grigio is now known as "the new Chardonnay" and is very popular worldwide. Look for PG from Trentino, Veneto or Friuili, up in the north-east, the region where Fabio Capello hails from. The wine should be light, lively, refreshing and lots of fun. It should be crisp and zesty, with exciting lemony flavours. Don't keep it, drink it young and fresh. I can recommend Mezzacorona, Beltrame and Lis Neris. Beware of cheap offers on this wine!
Orvieto was once called "the sun of Italy in a bottle". But look out! This wine can also disappoint. It's made from the trebbiano grape and comes from Umbria in central Italy. Its well worth spending a little more for the best wine, which comes from the classico zone, and the best is the secco (dry) style. It should be straw yellow, with an elegant, lemony flavour, and drunk while still young. I recommend Castello della Sala, Luigi Bigi and Barberani.
Gavi di Gavi is is one of my favourite wines, made from the Cortese grape in the Genoa region. Gavi di Gavi refers to wines produced nearest to the town of Gavi, and these are the best. This wine is tangy, zesty, intense and refreshing, with a lemony green colour and a peachy taste. My own favourites are Broglia "La Meriana", Fontanafredda, and Nicola Bergaglio. If you've tried this-it's beautiful!
Italian red wines are amongst the very best in the world, and of course their cost has risen with their popularity. There are now not only the traditional greats like Barolo and Valpolicella, but a new generation of reds is posing a major challenge to the French, especially the "Super Tuscans" like Ornellaia and Tignanello, which are a blend of Cabernet Sauvignon.
Dolcetto is a light, fruity red.Translated as "the little sweet one"- but the wine is dry! The best in my view is Dolcetto d'Alba. This wine is great with pizza, risotto or cold meats. It's ruby red with a delicate, fruity taste. Drink it young and not older than five years. I recommend Marchesi di Gresy, Prunotto or Enzo Boglietti.
Barbera is  known as "the people's wine", this is a great Italian red for everyday drinking. It comes from Piedmont, not far from Turin, famous for wine and cars as well as football! It is quite a deep garnet red with a ripe fruit taste. This is a great wine for lunchtime drinking, and will go well with almost all Italian or Mediterranean dishes. It is best after three or four years, but no older. I recommend Braida, Pio Cesare, Aldo Conterno or Vietti.
Barolo and Barbaresco are also from Piedmont, and are world-class wines, with power, depth and real character. They are high in alcohol, tannin and acidity, and made from the powerful and fruity Nebbiolo grape. Barolo is the bigger and bolder wine, and must aged fro at least three years before it can be sold, and Riserva wines for at least five years! Barbaresco is not as big as Barolo, but often has more elegance. It's known as the "Queen" and Barolo the "King". They are best after ten years in the cellar, brought out for the special occasion, and great with roast meats and casseroles.
It's best to get advice when buying this wine, because of the importance of the vintage, and I recommend Giacomo Conterno, Bruno Giacosa, Azienda Agricola Negro or Prunotto.
We French often forget that they also make wine in Corsica, and in the same way, Italians often forget that Sardinia and Sicily also make some excellent wines. I remember Jamie Redknapp giving me a bottle of Sardinian wine, saying it was superb, and I thought "yes, just a beautiful holiday memory"-but I was wrong, the wine was first class, so you never know until you try them!
So, there you are, just a few of my favourite Italian wines. Get ready! When we qualify, then go on to beat the Germans in the semi, and win the final 3-0 against Argentina, Italian things will be very fashionable, and we can sink a few of these wonderful bottles!